John T. Mather Legacy Society
The John T. Mather Legacy Society was established to honor our founder and recognize the thoughtful generosity of those who have included Mather Hospital in their estate plans or who have made a planned gift. In 1929, Mather Hospital was established as the result of a significant gift in the will of Port Jefferson shipbuilder John T. Mather. His vision was to establish the first hospital in the Town of Brookhaven that would provide healthcare to the people in the community. For almost a century this hospital has stood as a testament to one individual's thoughtfulness and generosity through a planned gift. Through planned gifts, members of the Mather Legacy Society will ensure that quality healthcare will be available in our community for the next century and beyond.
To make a gift for the benefit of Mather Hospital through your estate plans, you should specify the legal beneficiary as the JTM Foundation. Mather Legacy Society donors may designate their planned gift to a specific program or department of their choice. Gifts can be added to or used to establish an endowed fund, as a way to sustain annual gifts in perpetuity. All planned gifts, whatever their size, help Mather Hospital provide support in critical areas.
Read About Some of Our Donors Here.
An Invitation to Join
Donors are invited to join the Mather Legacy Society when notifying us of his/her planned gift of any size. We will require documentation to ensure that the planned gift is legally viable and that the donor's intentions can be carried out in the future. Planned gifts include provisions made in wills and trusts, life insurance and retirement plans, and charitable remainder and lead trusts.
Benefits of Membership
Membership benefits of the John T. Mather Legacy Society include:
Pride in making a gift to support healthcare in your community.
Possible income, estate- and gift-tax savings for you and your family.
Newsletters containing key updates and gift ideas.
Invitations to lectures, seminars, and other special events.
Invitation to an annual event held in honor of Mather Legacy Society members.
Acknowledgment of your generosity in Mather Hospital publications. Requests for anonymity will be honored.
Regular communication regarding important tax information, estate planning, key updates, and gift ideas.
If you require additional information or wish to discuss a planned gift, please contact:
Nancy Uzo
Vice President, Public Affairs
631.476.2723
nuzo@matherhospital.org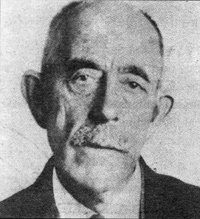 John Titus Mather was a successful shipbuilder in the early part of the 20th century. He was the last generation of a shipbuilding family that had resided in Port Jefferson Village throughout the 1800s and 1900s. Mather died on March 30, 1928, while on a trip to Havana, Cuba. His will outlined his wishes for the care of his family and loved ones and instructed his executor to "…incorporate under the laws of the State of New York a non-sectarian charitable hospital, to be located in said Village of Port Jefferson…so designed and constructed as to permit future enlargement, assuming that future needs may justify such action…It is my sincere hope that the citizens of Port Jefferson and vicinity will give their liberal and devoted support to said institution and endeavor to make it a success and a credit to the community." Mather Hospital opened on December 29, 1929.
Keeping with Mr. Mather's vision, the hospital grew along with the community from the inaugural 54 bed hospital, with a one bed Emergency Room to a 248 bedded facility. Through several renovations and expansions, Mather Hospital has kept its commitment to community members by delivering the highest quality healthcare to patients. Expansion of the hospital includes the Frey Family Medical Arts Building, which is home to the Bariatric Surgery Center of Excellence, the Infusion Center, and administrative offices. In 1998, the hospital opened what is now known as the Cody Surgical Pavilion, which features state of the art surgical suites and the da Vinci robotic surgical system. In 2015, the Calace Pavilion opened with a 35 single-bedded unit, the Long Island Anesthesia Physicians Conference Center, and houses Mather Hospital's Graduate Medical Education Program.
Mather Hospital is committed to the vision of John Titus Mather to grow with the healthcare needs of the community. The delivery of healthcare has radically changed from 1929, with many procedures accomplished via outpatient methods, rather than requiring a hospital stay. Acute care demand is greater, as well as adherence to compliance regulations that support positive patient outcomes. Mather Hospital is steadfast in being at the cutting edge in modern healthcare delivery and technologies, and its dedication to our patients and their families is evidenced by national awards and international recognition.
You can help continue John Titus Mather's vision by leaving a legacy gift to Mather Hospital. Your thoughtful generosity will ensure that future generations of Brookhaven residents have access to the highest quality healthcare right in their own community.
© Pentera, Inc. Planned giving content. All rights reserved.
Disclaimer